Women Find Grounds Maintenance Careers Satisfying | Outdoors
Think back to the vintage lawnmowers of the past. Brand names like "Yard-Man" and "Lawn-Boy" sent the message that cutting the grass was menfolk's work. While that may have been the image portrayed when those companies were founded in the 1930s, some women have always participated in cutting the home lawn, back then as well as now. Times have changed in the broader lawn industry, too. Nearly a century later, grounds maintenance is still perceived as a male-dominated endeavor, but today, more women are finding that the "grass is greener" for them in this field. Two southcentral Pennsylvania women who have made grounds maintenance their occupations have come to their callings by quite different routes.
Career Switch Brings Fulfillment
In the case of Sheri Becker of Adams County, her career change was unplanned. After managing the former Fieldstone Meadows Horse Farm in Dallastown, Pennsylvania, for over 20 years, the death of the farm's owner and subsequent sale of the property meant Becker was thrust into the job market six years ago, at age 47.
Becker eventually answered an employment advertisement for the grounds maintenance crew at New Oxford, Pennsylvania's "Cross Keys Village: The Brethren Home Community." It is a large non-profit retirement community, located just a few minutes from her home. She came from a gardening family — mostly vegetables and a few flowers — yet she accepted the job with some trepidation. After years of being a solo employee setting her own hours, she worried about keeping regular working hours and having co-workers, all of whom were men at that time.
Cross Keys Village has proved to be an ideal fit for Sheri, who prefers working outside. While most of the 20 grounds and maintenance crew are males, now there are also other female workers and volunteers on board. They receive acceptance from male co-workers and retirement community residents alike. At times a resident will approach Sheri in her uniform's golf shirt, baseball cap and sunglasses, only to say with surprise, "Oh, you're a girl!" Some residents with a grounds maintenance request even specifically ask, "Could you send one of the ladies?"
Becker's job title is "groundskeeper," for which her employer provided hands-on training. The year-round position includes duties ranging from lawn mowing and snow removal to trash duty, plant care, plant replacement, mulching, weeding, watering and autumn leaf removal. With a 300-acre campus, there is never a shortage of work. Sheri, whose hours are 7 a.m. to 3:30 p.m. with a half-hour lunch break, is known as the "plant person." She solves plant-related problems and her specialties include designing planters and hand pruning. She also finds particular joy in creating exterior seasonal décor.
Young Mother Operates Successful Landscaping Business
Martha Keckler Caudill started her own lawn care business as a 14-year-old living in Gardners, Cumberland County, Pennsylvania. What began with a teenage member of the garden clubs in Carlisle and Gettysburg dabbling in weeding and tending neighbors' landscaping, blossomed into a career. The business she founded, Keckler's Landscaping, now based in York Springs, Pennsylvania, is still going strong 20 years later.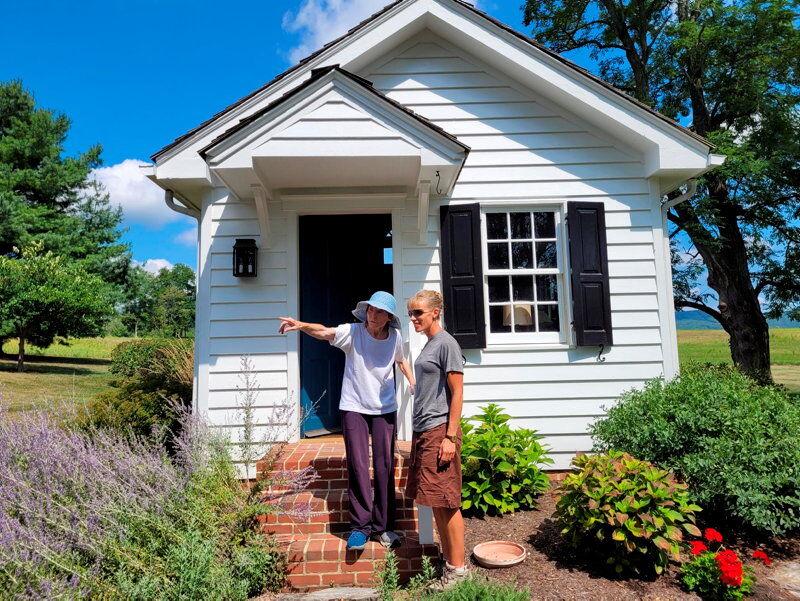 Initially, Caudill's parents wanted her to go to college, but Martha protested that it wasn't the right choice for her.
"I always knew I wanted to be in landscaping and horticulture," said Caudill, who grew up on a farm with her six siblings and loves being outdoors.
With college off the table, Caudill's parents, who were entrepreneurs themselves, encouraged her to start a business. Her mother connected her with two local garden clubs, where Caudill went to learn. She liked what she discovered and began her commercial enterprise by handing out fliers to its members, offering to do lawn work.
"I did a ton of weeding in flower beds," Caudill said. She also pruned and trimmed by hand, plus cut grass with a power mower. Since she was too young to drive, the initial challenge was getting to and from jobs, which usually involved her mother dropping her off and the property owner giving her a ride back home.
At age 15, Caudill joined the National Junior Horticultural Association. The organization's focus is summed up by the acronym HYCEL, which stands for horticulture, youth, careers, education and leadership. Caudill embraced all they had to offer, soaking up knowledge through various projects. She eventually served as an officer at the local, state and national levels, where she became president and eventually alumni president of the organization.
As Caudill, who was home-schooled, approached graduation, she was offered a scholarship to study horticulture at the Royal Conservatory in Scotland. She also had the opportunity to enroll in the two-year Professional Horticulture Program at Longwood Gardens in Kennett Square, Pennsylvania. Not wanting to lose the client base she'd built up with her landscape maintenance business, Caudill opted to continue working for herself.
Caudill didn't miss out on the Longwood Gardens' certification program. Rather, she opted to pursue its horticultural training via night classes, with the two garden clubs she belonged to each contributing $1,000 toward her tuition. She cared for customers' lawns by day, drove 2-1/2 hours to Kennett Square for class, then returned home late at night and got up early the next morning for work. It took her 10 years to complete the coursework and obtain her certifications from Longwood Gardens, with the plant use certification being her main focus.
Although she has never done any paid advertising, Caudill doesn't lack for clients seeking her services. She jokes that she gets her customers through word of mouth shared at card clubs, book clubs and wine clubs. She also gets business from neighbors of her clients and other people who see her outside working.
She can recall a time when there were men who felt that, as a woman, she wasn't qualified for her line of work. Caudill told them, "You should only be hiring me for my skill set and credentials."
Her services currently include some lawn mowing, which she does one day per week. Otherwise, her attention is mainly devoted to landscape maintenance, such as seasonal tasks like weeding, edging, mulching, pruning, hedge trimming, deadheading, fertilizing and leaf raking. She also installs landscape elements, including flowers and bulbs. Caudill tries to be eco-friendly, especially when it comes to supporting birds, bees and other pollinators.
She controls costs by purchasing used equipment when possible.
"I don't like debt and I don't need the latest and greatest," Caudill said.
Her clients determine how frequently she comes to their properties. As for her fees, Caudill charges mulching by the yard, weeding by the hour and establishes a flat rate for special jobs. She handles her own billings monthly, preferring to create handwritten invoices on pre-printed forms. Ninety-nine percent of her customers are residential properties. She also services one warehouse property and does on-call work for a municipality. Most of her customers are located within the Carlisle-Gettysburg-Mechanicsburg region.
For her first eight years in business, Caudill was a solo operator with no employees. Since then, she hires two high school or college students to work with her during summer. She patiently trains them, not only in landscaping skills, but also encouraging them to "make yourself worth your work." Ideally, they start with her around age 16. Most stay until they're 20 or 21.
Caudill's workday typically runs from dawn to dusk. Her helpers ride with her in a diesel pickup truck with a dump bed that carries mowers and wheelbarrows, and tows a trailer. She's not bothered by the long work hours, noting, "I can't believe people pay me to go do this every day. I love my job."
Caudill Landscaping operates from late winter to late fall, with Caudill taking off over the coldest weather months. That period offers the chance for additional quality time with her family, which includes 4-year-old twins and a 5-month-old. She is already looking forward to home-schooling her children in a few years.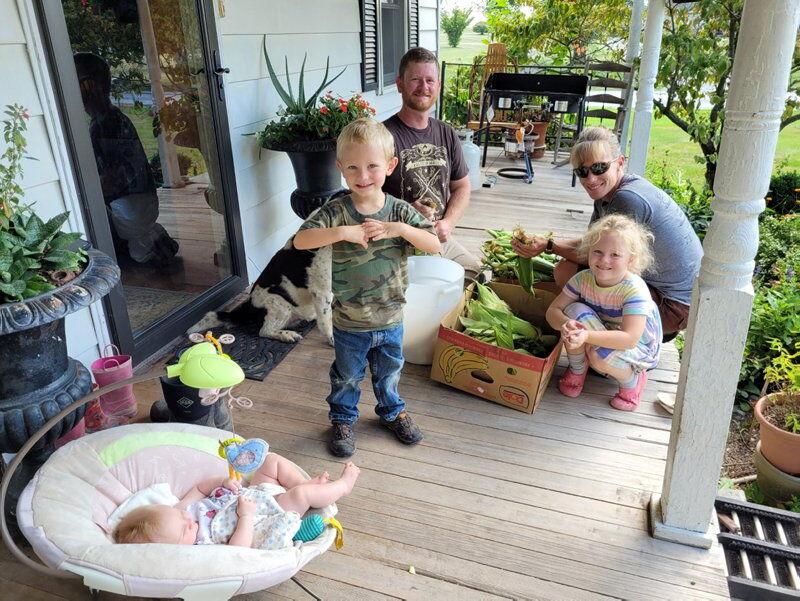 Caudill is able to balance her business and family time thanks to the help of her husband of 11 years, Daniel Caudill, and one of her sisters, who provides child care just five minutes from home.
"You need a good support system," Caudill said.
Daniel, who is a self-employed plumber and electrician, not only picks up the children from their caregiver, but also assists Martha's business by helping with mowing at times.
Since Martha Caudill realizes that her health is her wealth, she tries to work out and take care of her body.
"You've got to be tough if you want to give it all you've got," she said.
Asked what the future holds for her and her business, she said, "My future looks like what I have today."
Expansion is not part of her plans. Because she's been in business for 20 years, Caudill said, "I now know my limits and don't take on more than I can handle."
She offers this career advice to men and women alike:
"Find something you love to do" and do it.
https://www.lancasterfarming.com/country-life/outdoors/women-find-grounds-maintenance-careers-satisfying/article_5b952fc5-dab6-5245-9998-bbbc9dc1e001.html