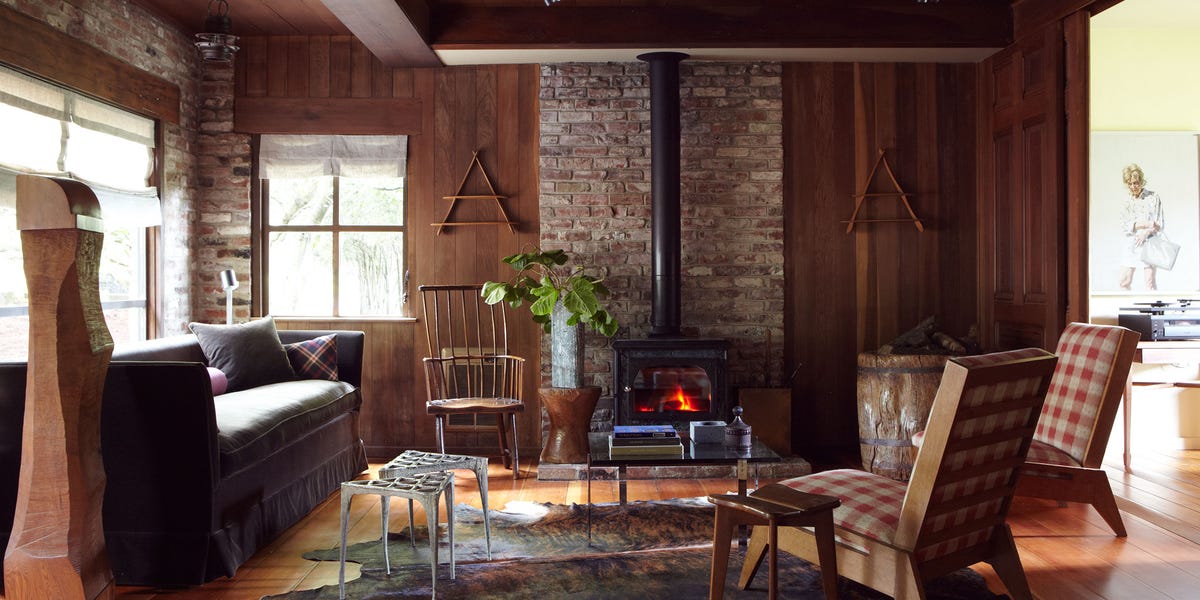 This Shingle-Style House Is the Definition of Cozy
This story originally appeared in the June 2012 issue of ELLE DECOR. For more stories from our archive, subscribe to ELLE DECOR All Access.
---
Northwest Marin County is a ­region of rolling hills, oak forests, quaint towns, and sweeping coastal ranches, located about an hour north of San Francisco's Golden Gate Bridge. The scenery is breathtaking, yet when Roth Martin first tried to talk his friend Steven Volpe into jointly purchasing a 15-acre property there, the interior designer dismissed the idea out of hand. "I didn't show much enthusiasm," admits Volpe, who at the time wasn't familiar with the area.
In truth, it was complicated. The close friends are business partners in Hedge, a decorative arts gallery in San Francisco. But while Volpe is single, life inevitably gets a little messier for Martin, who, with his wife, Emily, has four young children. (The oldest, Harry, now six, is Volpe's godson.)
The friends had been talking about renovating a country home when Roth spotted the real estate listing on the internet in 2006. The property, located on the outskirts of the village of Tomales, certainly sounded spectacular, with its Shingle-Style house, pastures, and a creek running through it. Unfortunately, the house and assorted structures, including a barn and a caretaker's cottage, were in poor shape. It wasn't a good sign that the listing had been on the market for more than two years. Still, Roth says, "it got stuck in my head."
It took a year of convincing for Volpe to agree to a visit—a fraught period during which Emily gave birth prematurely to daughter Pia, who spent ­several weeks in intensive care. At last, the healthy infant was allowed to come home. Shortly after, in late 2007, Volpe and the Martins drove up to see the house. It was a classic coastal morning, misty and cool, as they ascended a gently winding path framed by shaggy eucalyptus. As they arrived at the main house, a dog came bounding up to greet them. "Pia!" shouted one of the home's owners. "It's not a very common name," Emily says. "We just couldn't believe it. It seemed meant to be." They soon made an offer.
The plan was to gut the house, but something held them back. Instead, the trio began driving up on weekends from San Francisco to spend time on their land, hiking through the woods and kayaking on the creek. They allowed the rancher next door to graze 15 of his beef cattle on their pasture, and adopted a young steer when it turned up lost. "We tracked down the owner, who said we could keep him," Emily says. "We named him Ferdinand Romeo Angus."
The previous owners had planted an Italian-style garden, complete with plum trees and a grape arbor. As pretty as it was, Volpe and the Martins began to gradually remake the landscape with more indigenous plants—from ornamental grasses to madrone, a local evergreen with a papery bark and dark, waxy leaves—which they sourced from Mostly Natives Nursery in Tomales.
Meanwhile, the house that Volpe had initially declared a teardown began to grow on him. He learned that it was built in the late 19th century, and he began to research the local architectural vernacular. In the end, he and the Martins decided to embark on a gentler renovation. They upgraded the home's plumbing, refinished the wood floors, and painted the exterior trim black. The kitchen, which still had an electric stovetop from the 1950s, was dismantled and then refitted with new stainless steel appliances, white-marble counters, and the original iron-knobbed cabinets, repainted in a shiny gray enamel.
For Volpe, who is known for the pristine interiors he creates for blue-chip clients, the decor had to strike a balance between his own highly curated aesthetic and the more practical needs of a young family. "If it's too fragile, it can't go in," he says. "It has to be kid-friendly." But that didn't stop him from searching out interesting finds, including several pieces by Hedge's artists and designers, such as a Tony Marsh perforated-ceramic vessel in the dining room, and a gemlike mirror by Sam Orlando Miller in the Martins' bedroom. In the wood-­paneled sitting room, Axel Vervoordt sofas mix with a 17th-century log bucket and 1940s French chairs upholstered in a coral checkered fabric. "They feel knocked out, not precious," Volpe says.
In many ways, the house is still a work in progress. Upstairs there are just two bedrooms—one for Volpe, and one for the Martins, which has a screened-off area for the children. Eventually, Volpe will renovate an adjoining building and turn it into his own personal quarters. For now, he and the Martins try to alternate their visits, or just pile in together for weekends of work, togetherness, and fun. "It took us a while to realize how special the house is," Volpe says, "but the more time I spend in it, the more I like the way it makes us feel. Fortunately, we stopped ourselves from taking away its soul."
Ingrid Abramovitch, the Executive Editor at ELLE Decor, writes about design, architecture, renovation, and lifestyle, and is the author of several books on design including Restoring a House in the City.
https://www.elledecor.com/design-decorate/house-interiors/a41330880/steven-volpe-marin-county-home/