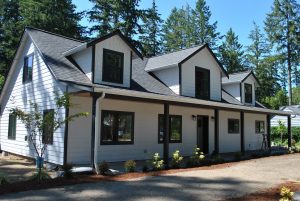 Inspiration Around Every Bend at the Olympia Master Builders Tour of Homes
The last few years kept us at home more than ever before. With that came a tidal wave of renovations, along with a surge of buying and selling in Thurston County's red-hot real estate market. The annual Olympia Master Builders Tour of Homes, which is presented by Olympia Federal Savings (OlyFed), is a great way to view both new and remodeled projects, as well as meet local area designers and builders who make them possible. This year's self-guided, open door Tour takes place on Saturday and Sunday, September 17 and 18 from 10 a.m. to 4 p.m. daily.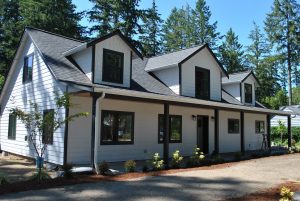 Explore Remodeled and New Construction Homes Throughout Olympia
For 22 years, the Tour of Homes has provided a peek behind the curtain in building and renovations. Why limit yourself to looking up ideas on a website or jotting notes from your favorite HGTV show? Thanks to the Tour, you can walk through hands-on locations, which incorporate the latest trends, materials, building practices and green technology.
This year there will be eight home sites, with half being first-time participants. These include 4th Dimension Construction, Brown Building Contractors, Doyle Construction, First Finishers and Sparrow Design Co., John Erwin Remodeling, Lifespan Construction, Oyster Bay Construction / Interior Dimensions and NW Concept Construction + Artisans Group.
"We're excited to see all the projects," says OMB's Tour of Homes chair Karen McClennen. "It's an opportunity for builders and remodelers to show their work. It's the best of the best showcased. Remodelers don't often get to share their work with the public compared new construction homes, which are often featured in open houses. This event gives us the opportunity to spotlight some of our most talented local builders and carpenters. It really gives our community the chance to explore a number of living experiences from purchase remodel projects that highlight all of possibilities of downsizing to new construction build projects that show all the creative ways you can customize the home of your dreams. We're thankful to the many homeowners who open their doors to showcase their homes for the benefit of others."
Pick Your Favorite Olympia Homes Alongside Industry Experts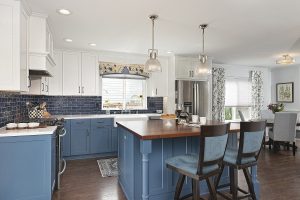 While touring homes, the public is invited to vote for their favorite home site as part of the People's Choice Award. There will also be an Industry Professional Award determined by this year's judges. The 2022 judging committee includes Building Industry of Washington (BIAW) President Joseph Irons, BIAW past-President Tracy Doriot and Nick Scheel, the Washington State National Association of Home Builders (NAHB) representative from Spokane.
"Olympia Master Builders and our members are members of both of these associations," says McClennen, "and while the public often judges on taste, style and their interests, the professionals look at craftsmanship and value for the dollar."
Tour of Homes Honors Community Partnerships
They say many hands make light work and that's especially true when it comes to construction. Like any building project—large or small—the Tour of Homes is a community-wide effort.
"OlyFed is honored to be the main event sponsor again this year for the 22nd annual Tour of Homes," says the bank's AVP/Residential Relationship Manager Barbara Whitlow. "We are passionate about supporting the Tour as it is an exciting event for both contractors and consumers. The Tour provides the opportunity for builders and designers to showcase their workmanship and the chance for our community to meet the people behind these incredible projects. Whether someone is looking for remodeling ideas or is interested in building a new home the Tour is a fun and exciting way to gain some insight."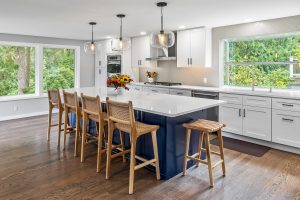 Joining OlyFed this year are Silver Sponsors Olympia Overhead Doors and Capital Heating & Cooling. Printed Tour maps will be available at all sponsor locations, as well as, every local OlyFed branch. Digital maps will be posted on the Olympia Master Builders website the week of the event.
Plan and Get the Home Loan You Need at the Olympia Home Tour
Homes are more than just where we live. It's where we raise a family, relax at the end of the day, host get-togethers, snuggle with pets and build equity for the future. Olympia Master Builders works hard towards their mission to provide affordable housing for all economic segments of society and offers searchable business directories of vetted workers to make your final project a dream come true.
Echoing that, OlyFed's home loan programs include home and refinance loans, purchase remodel loans, construction or first-time buyer programs and many more. Whether a Green Choice Loan towards energy efficiency installations and upgrades or ADU financing to build a multi-generational tiny home in your backyard, they've got you covered from floor to ceiling and everything in between.
Come see what's new and notable thanks to the 2022 Tour of Homes. It's self-driven and open house format means you can skip ahead or just pop by the sites that match your wish list. Whatever you decide, inspiration is always just around the bend.
Sponsored
Inspiration Around Every Bend at the Olympia Master Builders Tour of Homes