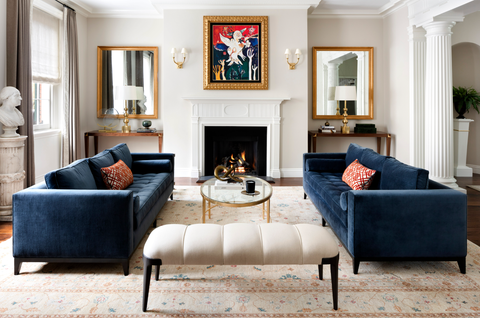 How to Transition Between Interior Design Styles on a Budget
As with anything from music to food preferences, the interior design style you crave in your home can change over time. Once drawn to a crisp, black-and-white color scheme (admittedly devoid of character), I've been transitioning into a more Art Deco-leaning aesthetic—not only because I'm into the moodiness of the style and the warmth of brass accents, but it seemed like the easiest move to make without buying all new stuff. Naturally, this made me curious what other advice the experts might have on transitioning between styles. As expected, they delivered insight on what other design styles might be easy to transition into on a budget and tips for how to do so.
"The easiest way to visually transform a room from one style to another is to transition one period style away from the existing style—like from traditional to transitional or transitional to contemporary," explains Maryland-based designer Sydney Markus.
No matter which styles you move between, easy updates include changing the wall paint, replacing drapery, updating hardware, and swapping decor. "It is also important to remember that views from adjacent rooms leading to the new space might need to be updated to visually connect to the new aesthetic, such as selecting new paint colors or removing, re-covering, or simply moving existing furniture from one space into the next," Markus adds.
Ahead, take note of designer-approved ideas for reimagining your home on a budget.
---
Traditional to Transitional
It doesn't get any more on the nose than transitioning to a style that's actually called transitional. Easing into this style can be smooth from a traditional one and vice versa. "They are close in concept, but the clean lines in the transitional style will give your traditional pieces new life," says Virginia-based designer Tracy Morris. She explains: "If you have a traditional Oushak rug with deep colors as well as heavier pieces of furniture, place cleaner-lined pieces on the rug—think items with straight arms, solid fabrics, and painted finishes—and the whole space will take on an updated appearance."
Starting with the basics can quickly refresh your space. Replace the existing chairs in a traditional dining set with ones that have a sleek profile. "If you want to keep your original traditional set of dining chairs, reupholster them with a new tonal fabric," Morris says. You could even do both, and use the reupholstered dining chairs throughout your home as desk or game table chairs.
---
Transitional to Organic Modern
If you no longer connect with your transitional-style home, consider organic modern. "Transitional design has a lot of gray and white happening," says New York City-based designer Emily Del Bello. "To get that organic modern feel, you want to take those old tones and bring in the beiges, creams, and browns with a lot of textures." Bello recommends adding textural pillows to a gray sofa or adding paint or wallpaper in warm colors to your walls for a more organic modern feel.
---
You love finding new design tricks. So do we. Let us share the best of them.
---
Midcentury Modern to Organic Modern
Midcentury modern design features sleek lines and organic shapes in earth tones, making pieces from the style easy to carry over into an organic modern look, which is a bit cozier. If you have large neutral pieces already, swap out smaller items like accent tables and accessories. "If you want to move toward a more organic modern vibe, you can exchange more structured side tables to raw wood stumps and add rough clay pottery and highly textured wool pillows," says Arizona-based designer Claire Ownby. "Conversely, if you are wanting to modernize your look, try a glass and steel architecturally-inspired table with glass and leather vases and omit the use of accent pillows altogether."
---
Modern to Coastal
Going from a polished modern interior to a cozy, coastal retreat may be easier than you think. Both styles can take on a minimalist atmosphere—look no further than the coastal grandmother trend that's taken over this summer. California-based designer Hillary Stamm recommends repurposing items you love and adding new accessories. "I love to take a dresser and paint it, or call the electrician to move a favorite lighting piece for a different feel."
That works for any design style transition, and the same goes for bedding. "Add some new throw pillows and a duvet for a fresh look," Stamm adds. "You don't have to redo an entire room to make it feel light, fresh, and new!"
---
Maintain a Mix of Styles
Blending a few of your favorite styles is not only a clever choice for those who love a variety of looks, but it can make it easier to refresh your home in the future. "Maintaining a consistent color palette throughout your house will blur the lines between styles," says Washington D.C.-based designer Annie Elliott. "White walls with splashes of color via art and on furniture, for example, or moody dark colors from room to room will set a unifying tone for the house."
Another way to make potentially competing styles work together? Replace your lamps. Elliott explains: "Simple, modern lamps work well anywhere and bring a freshness to a space. Crystal lamps, colorful ceramic gourd lamps, or metal (or metallic-painted ceramic) column lamps modernize classic and midcentury styles, and they add warmth to contemporary spaces. Modern lamps are a great throughline in a house, adding a pleasant continuity as you move through the rooms."
Follow House Beautiful on Instagram.

https://www.housebeautiful.com/lifestyle/a40941946/interior-design-styles-transition-tips/